Expert AC Repair in Venice, Florida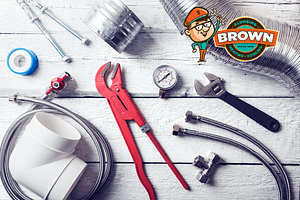 Need AC Repair in Venice, Florida? Call Brown! Living in Florida, we all know that a working air conditioner is a must-have for comfortable living, especially during the hot summer months. Unfortunately, an AC unit is just like any other appliance – and sometimes it can break down or malfunction. That's when it's time to call a professional HVAC technician like Brown Heating, Cooling and Plumbing. With over 50 years of HVAC knowledge and experience, Brown is the go-to company for fast, effective HVAC repair in Venice, Florida.
Emergency Repair Service: When your AC system goes out, you don't want to wait around for a technician – you want it fixed ASAP. That's why Brown Heating, Cooling and Plumbing offers emergency repair services. This means that no matter what time of day or night, you can call for help and a certified technician will be at your doorstep shortly.
Warranty on All Jobs: Brown is confident in our work. That's why we offer a 100% warranty on all of our AC repair in Venice jobs – whether it's a simple repair or a complete system replacement. With Brown, you can have peace of mind knowing that your HVAC system is in good hands.
Cost-Effective and Upfront: At Brown, we believe in providing cost-effective services. We know that HVAC repair and replacement can be expensive, which is why we offer upfront estimates. This means that you know exactly what you're paying for before any work is done. No surprise charges or hidden fees.
Certified Technicians: All of Brown's technicians are certified, which means we have gone through rigorous training and testing to become experts in our field. We have the knowledge and experience to diagnose and solve even the most complicated HVAC problems.
Professional Attitude and Quality Workmanship: At Brown, we believe in providing top-notch service from start to finish. Our technicians are professional, courteous and respectful of your home and property. We use only the highest quality parts and equipment, and we stand behind our work of AC Repair in Venice, 
Contact Us Today: If you're in need of HVAC repair or replacement in Venice, Florida, Brown Heating, Cooling and Plumbing is the company to call. With our emergency repair service, 100% warranty, cost-effective rates and upfront estimates, certified technicians and professional attitude, you can trust that you're getting the best service possible. Don't suffer through another sweltering summer day – call Brown today!