Air Conditioning Contractor in Sarasota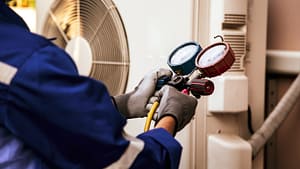 Keeping Your Cool – Choosing the Best Air Conditioning Contractor in Sarasota: Living in Florida can be a dream come true, but the sweltering heat and humidity can quickly turn that dream into a nightmare. Whether you're looking to install a new air conditioning system, repair your current one, or simply schedule routine maintenance, you want to make sure you choose the right air conditioning contractor for the job. With over 50 years of experience in the industry, Brown Heating, Cooling and Plumbing is the go-to choice for homeowners who demand the best in reliability, affordability, and quality workmanship from their Air Conditioning Contractor in Sarasota.
At Brown Heating, Cooling and Plumbing, we understand that your home comfort is a top priority. That's why our team of certified HVAC technicians is always ready to provide you with the personalized service and attention you deserve. Whether you need a quick fix for a malfunctioning air conditioner or a complete replacement of your HVAC system, we have the expertise and proven track record to get the job done right.
Our HVAC repair services cover a wide range of issues, including refrigerant leaks, compressor failures, electrical problems, and more. We use state-of-the-art diagnostic tools and the latest industry techniques to identify the root cause of the issue and provide you with the most effective solution possible. We also offer emergency repair services, so you can rest assured that we'll be there for you whenever you need us as your Air Conditioning Contractor in Sarasota.
In addition to repair services, we also provide comprehensive HVAC maintenance to help prolong the life of your equipment and ensure optimal performance. Our maintenance packages include thorough inspections, cleaning, lubrication, and calibration of all key components of your HVAC system. We also offer priority scheduling and discounts on repair services as part of our maintenance plans.
If you're in the market for a new air conditioning system, our Air Conditioning Contractors in Sarasota have you covered there as well. Our team will work with you to assess your specific needs and budget, and recommend the best HVAC replacement options to fit your criteria. We only use the highest quality equipment and materials from reputable manufacturers, and our installation process is always done with precision and attention to detail.
Schedule Your Inspection or Work Today:
When it comes to your home comfort, you shouldn't have to settle for anything less than the best. With Brown Heating, Cooling and Plumbing, you can trust that we'll always have your best interests in mind. Our team of experienced HVAC technicians is dedicated to providing you with cost-effective solutions, upfront estimates, and expert advice to help you make informed decisions about your Sarasota HVAC needs. Don't let the heat get to you – contact us today to schedule your next HVAC service appointment!