Air Conditioning Contractor in Venice Florida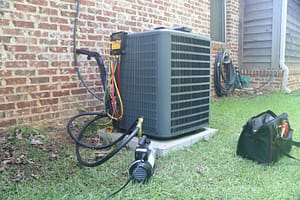 Brown Heating, Cooling and Plumbing: Your Trusted Partner for Complete HVAC Services in Venice, Florida: Are you searching for a trustworthy air conditioning contractor in Venice, Florida? Look no further than Brown Heating, Cooling and Plumbing! With over 50 years of experience in the HVAC industry, our company has built a reputation as one of the oldest and most reputable HVAC contractors in Florida. We are committed to providing outstanding customer service and ensuring our clients' comfort and satisfaction.
Air Conditioning Repair: We understand the inconvenience and discomfort of a malfunctioning AC unit on a hot summer day. That's why we offer prompt and reliable air conditioning repair services to get your system up and running quickly. Our experienced technicians are equipped with the latest tools and technologies to diagnose and fix any AC problem, from a minor glitch to a major breakdown. You can trust us as your air conditioning contactor in Venice Florida, we provide transparent and upfront pricing, so you don't have to worry about hidden costs or surprises.
Air Conditioning Maintenance: Regular maintenance is crucial to keep your AC system running efficiently and prolong its lifespan. Our comprehensive AC maintenance program includes a thorough inspection, cleaning, lubrication, and tune-up of all components. We also offer customized maintenance plans tailored to your specific needs and budget. Our HVAC experts have the skills and knowledge to detect and prevent potential issues before they escalate into costly repairs or replacements.
Air Conditioning Replacement: If your AC system is beyond repair or nearing the end of its lifespan, we can help you select and install a new, energy-efficient unit that suits your home's size, layout, and cooling needs. We carry a wide range of top-quality AC brands, and our team will guide you through the selection process, provide upfront pricing, and ensure a seamless installation. Our goal is to help you save money and energy while enjoying maximum comfort and air quality.
Air Conditioning Installation: Whether you're building a new home or renovating an existing one, we can design and install a state-of-the-art AC system that meets your requirements and exceeds your expectations. Our team of certified technicians follows strict safety and quality protocols to ensure a smooth and hassle-free installation process. We also offer financing options to make your investment more accessible and affordable.
Choosing Brown Heating, Cooling, and Plumbing as your air conditioning contractor in Venice, Florida, means choosing reliability, professionalism, and expertise. As a family-owned and operated business, we take pride in our commitment to customer service and satisfaction. We are confident that our comprehensive AC services, from repair and maintenance to replacement and installation, will meet and exceed your HVAC needs. Contact us today to schedule an appointment and experience the Brown Heating, Cooling and Plumbing difference!